Reflections
March 12th, 2013
This tutorial shows how to reflect text, but you can also do the same with images.
Objective
Finished Result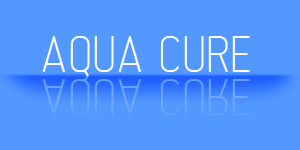 Tutorial
Open a new, blank canvas. I will be using a 300x150px one.
Using the Paint Bucket , fill the Background with the color of your choice.

Use the Text Tool to write something on top.

In your Layers window, Duplicate your text by hitting Ctrl+J or by right clicking it and selecting "Duplicate layer".

Now we want to change that copy text layer into a normal layer. Right click on the copy and select Rasterize Type. (Older versions call it "Rasterize Layer".)

Make a selection around your whole canvas by hitting Ctrl+A (Select All). Then, right click inside the selection and choose Free Transform.

Right click inside the selection again, and choose Flip Vertical. Hit Enter on your keyboard to apply the transformation.

Use the Move Tool to move the copied text a few pixels below the original text.

Use the Rectangular Marquee to select the bottom half of the copied text.

Go to Select >> Modify >> Feather (or just Select >> Feather in old versions) and set it to 15px. (Use a larger number if the text/image is larger.)

Hit Delete on your keyboard once or twice to make the text fade.

Set the Opacity of the copied text to 50%.

Now it looks like…

Make a New Layer at the top. I will name it shadow.

Select black as your foreground, and then select the Gradient Tool . It should go from black to transparent, and it should be a Linear Gradient.

Use the Rectangular Marquee to select the area below the original text. Make a small gradient inside this selection on layer shadow.

Set the Blending Option of layer shadow to Soft Light. You can also try Overlay or just lowering the Opacity if those look better.

It now looks like this…

To soften the top of the shadow, go to Filter >> Blur >> Gaussian Blur and set it to 1px.

And now for the finishing touches. Use the Eraser with a soft brush, and erase parts of the left and right sides.

Here's the finished product!