Metallic Wires
February 2nd, 2014
This is a simple way to make metallic looking wires.
Prequisites
Please know how to do the following before using this tutorial.
Objective
Finished result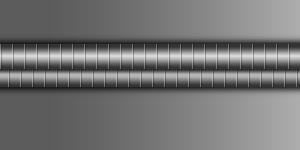 Tutorial
Open a new, blank canvas. I will be using a 300x150px one.
Create a New Layer . I will name mine wire bg.

Using the Rectangular Marquee , make a selection that is about 25px in height.

On layer wire bg, fill the selection with a light grey color using the Paint Bucket tool .

Choose a dark grey color, and then select the Gradient tool . Make sure the gradient goes from color to transparent and is a Linear Gradient.

Create a gradient from the top to about halfway down.

Create another gradient from the bottom to about halfway up.

On a separate canvas that is 12px wide, create a pattern. It should have 1px white, 1px black, and 12px of transparent space. (Tutorial: Making and using patterns)

Back to our first canvas, make a New Layer . I will name mine lines.

Make sure the selection is still around the wire background. Fill the selection with the pattern that we just created onto layer lines.

Lower the Opacity of layer lines to about 30%.

Now we have…

Make another New Layer above the Background layer. I will name mine shadow.

With the selection still around the wire, fill layer shadow with black using the Paint Bucket tool .

(This won't show up yet since it's behind the wire, so I'm just showing a preview of the layer.)

Now we're finally done with the selection around the wire that we've been holding onto.

Deselect the selection (Ctrl + D), and apply a Gaussian Blur on layer shadow (Filter >> Blur >> Gaussian Blur). Set it to about 4 or 5px.

Duplicate layer shadow (Ctrl + J) to make the shadow a little darker.

That's it! Make as many as you want!